From Monday till Friday you can follow Pilates classes. For the group sessions you may choose any class from the schedule, regardless of your level. In this way you can choose the class that suits you the best.
Watching the schedule on your mobile phone
When watching the schedule on your mobile phone you don't probably see the complete version. The solution is;
turn your phone a quarter of a turn so that there is enough space for the schedule to show the complete version

click on the green plus on the schedule times. This way you can see whether there are classes on the other days
Group classes
It is possible to make an appointment out of the schedule when:
* a group consists of  at least 3 participants
* solo- or duo sessions
To keep the groups small reservation is required!
Curious who teaches? Have a look then at the photos with a short description.
Private and duo classes
By appointment.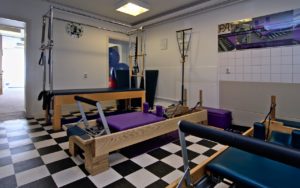 Pilates equipment, like the cadillac and reformer, for private and duo classes
 There are no classes on: